Three star campsite near Sarlat in Dordogne Périgord Noir
A stunning backdrop
La Plage campsite is nestled in the heart of what is known as the "Golden Triangle" in the Dordogne valley near Sarlat. Set within an oasis of greenery on the edge of a river, it is the perfect destination for your holiday with family or friends.
What better place to enjoy a relaxing break than on a campsite located at the foot of the picturesque gardens of Marqueyssac on the edge of the Dordogne river, a mecca for fishing and swimming. The campsite is located near world famous prehistoric sites such as Lascaux and Les Eyzies as well as castles, gardens and medieval villages clinging to the majestic cliffs.
Your holiday accommodation in the heart of Périgord Noir
Choose from our range of fully equipped self-catering accommodation: 1 and 2-bedroom furnished tents for 2 or 4/5 people and 2-bedroom mobile homes for 4 people. Our camping pitches for tents, caravans and motorhomes are ideal for those seeking a true camping experience on spacious, sunny and shady pitches.
A relaxing break for the whole family
There is something for everyone at the La Plage campsite: relaxation, sports, leisure and entertainment.
The campsite also offers a large swimming pool, a paddling pool and direct access to the river Dordogne via a pebble beach.
La Plage campsite affords everything you could want for a fabulous holiday in an amazing setting!
Discover Dordogne
The campsite boasts an unparalleled location in the heart of Périgord Noir in Dordogne, a region brimming with breathtaking landscapes and outstanding heritage.
The medieval towns of Sarlat, Roque Gageac and Domme as well as the châteaux of Castelnaud and Beynac offer spectacular backdrops and are steeped in history.
You can also take a step back in time and discover the numerous historic sites in Périgord Noir: the famous Lascaux caves and Les Eyzies, a small village home to one of the world's most complete collection of prehistoric artifacts.
La Plage campsite in Vézac welcomes you from 11 March to 21 October 2017. See you soon!

Read more
Accommodation at La Plage campsite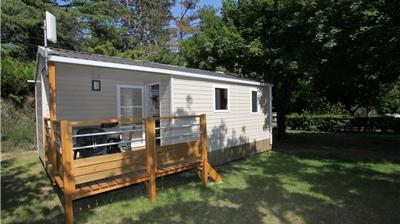 27m² 2 bedrooms Lounge - TV - WIFI …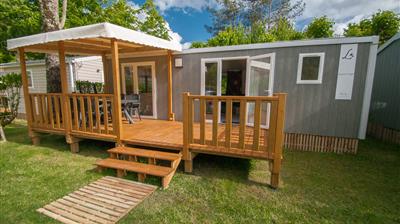 30m² 2 bedrooms Lounge - TV - WIFI …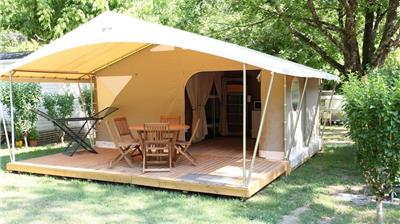 32m² 2 bedrooms Garden table set …
VIEW ALL ACCOMMODATIONS